This week our great sister state, South Carolina, was hit hard with flooding from historic amounts of rainfall. Our thoughts and well wishes are with them and we'd like to take a moment to discuss ways our clients can preemptively prepare for a disaster with their logistics provider. In many cases, having a good solid plan will help to give peace of mind in the event your cargo is in an area that is in crisis.
COMMUNICATION
The first step in your preparation is simply to talk about the emergency plans in place with your warehouse and logistics offices. Disasters happen and that's a sad fact of life, but being prepared, insured, ready, and knowledgeable about the issues in your area can help. Determining the nature of any event can help in advance. Are you in an area of flooding like our friends in South Carolina? Is it an area that has a strong tornado season? There are a multitude of different climates in the USA that have different weather issues and understanding what can go wrong and how the local offices are set up to handle these occurrences can help ease your concerns.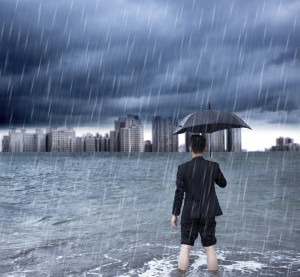 INSURANCE AND REASSURANCE
After determining the nature of events, talk with your provider about their insurance and your liability in case of a disaster. How you need to be covered in the event of a total loss can help you determine the best way to store and move your cargo. Talk about the building, the area, the escalation of events and what safety precautions are available so you can make sure your own insurance coverage applies to any gaps or any liabilities you have. Always make sure you know you are covered.
LOCATION AND ORIENTATION
Once you're covered by your insurance and you understand the nature of your provider's plan, learn and understand the topography of the area and the ways cargo moves in and out by truck, rail, port, and plane. Will a flood cause the bridges to become unusable? Will a tornado destroy a rail hub? Having a back up plan and knowing in advance what delays you can face will help you communicate to your clients about their timelines and any back up plans they need in place in the event of a disaster or a loss. Even if your cargo isn't affected, your timelines for shipping can be compromised and your clients will appreciate your knowledge and suggestions.
CALL ON NELSON INTERNATIONAL
We at Nelson International are here to talk about your cargo and shipping needs. We have a strong plan in place to prevent and mitigate any losses or delays caused by disasters and are happy to discuss ways to prevent issues with you at any time. Again, our hearts go out to the people of South Carolina and we offer support and assistance to them during this time.