In March the US House of Representatives approved legislation that gives the air cargo industry the ability to hire third party canine inspectors to screen cargo. As our industries move quickly toward technological advancements in block-chaining, user experience driven rate management and self driving cars, canine screeners are almost unbeatable when it comes to cost and efficiency in cargo screening. This measure will give security and TSA the ability to source the screening on both commercial flights and cargo planes at a time when airfreight is booming.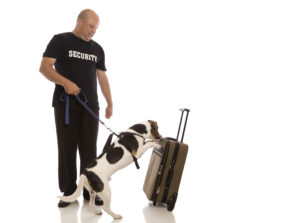 "The industry has been heavily involved, from handlers to certifying companies, the airlines and everybody else – it's giving everybody the capability to give their input into what's going in this program," said Jennifer Haigh, manager of cargo screening and business development at K2 solutions, Inc.
Upon this ruling, TSA got busy developing a set of standards for evaluating third-party canine screening companies. Working fast to implement dogs into the process, the efficiency and trumps other screening methods as trained canines can detect dangerous and illicit substances in the single digit as parts per billion range without needing fancy scanning equipment.
"These dogs have the ability to [go] through and screen pallets and warehouses in a matter of minutes," she said. "Think of the efficiency of putting a dog and a handler into that environment and not having to worry about, 'Is this system going to work?' or 'How many people do we have to bring into play now that we have equipment?'"
We at Nelson International are on board with whichever methods keep our cargo and air passengers safest and will continue to watch these stories for those which pertain to cargo. If they happen to include adorable puppies? More's the better.