In many cases, as a forwarder, agent, or NVOCC, the shipper of record on an FCL shipment is not the loading party of the container. Containers are loaded, braced, and sealed away from the location of the forwarder, who documents the shipment based on information given by the actual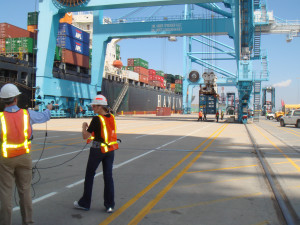 shipper, as the party that stuffs and seals the container. The forwarder then acts as the shipper of record upon the bill of lading and is responsible for obtaining and conveying information and documentation to the carrier on behalf of the original shipper.
With the new SOLAS mandate taking effect on July 1st, those containers will need to be weighted in one of two ways: either the shipper can weigh the entire loaded container as one gross weight, or the individual pieces, bracing, etc., can be weighed and added to the containers tare weight and reported as a whole gross weight. Here is a very important significance: the containers must show an actual and verifiable weight and those that do not will be delayed until one can be obtained.
As the mandate looms over the summer, we are aware of how complex this can be if the container
loaders do not have access to a scale and crane that can weigh the whole container as one piece. There is great confusion about allowable tolerances for discrepancies and penalties for potential non-compliance, but the individual weights of all items allowed seem to be the fastest and easiest way for shippers to comply. A breakdown of laws by countries that was made available by Worldshipping.org only shows 10 out of 162 signatories have guidelines available.
We advise our customers to proceed with compliance as to produce an accurate VGW with weight totals if the gross container cannot be weighed on site. Due to the confusion still surrounding the new laws, we expect to continue to produce more information as clarification happens. This is an on-going issue that Nelson international is following closely and will provide more information to our readers and customers as it becomes available. If you have any questions or concerns, please contact us.