I am the treasurer of the Hampton Roads Traffic Club and in mid-December, we hosted a fundraising dinner event for the Roc Solid Foundation and the Virginian-Pilot Joy Fund.
The event was an enormous success, drawing three hundred and twenty-five guests.  We raised $10,000 that night, and shared it equally with two worthwhile organizations.  The picture below is of the Traffic Club presenting a check to Roc Solid Foundation.
Roc Solid's mission is "…to build hope for children battling cancer and their families by offering them Roc Solid opportunities to engage in the simple joys of childhood despite their conditions."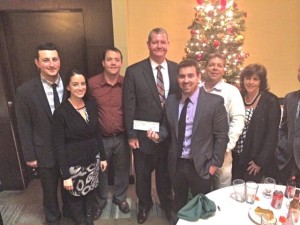 The Virginian-Pilot Joy Fund is a non-profit organization that raises monetary donations from the community to purchase new toys for local children who may not receive a single toy during the holiday season.
The needs of children are a year-round concern.  Certainly the holiday season brings it into greater focus for many people or calls more attention to it than at other times of the year.  Our efforts for these worthwhile organizations are put to use all year round, and we as an industry are proud to play a small role in the overall effort.
You can donate to the Roc Solid Foundation here.
You can donate to the Virginian-Pilot Joy Fund here.
Thanks so much to our sponsors for the evening:
Service Transfer
M&J Transport – First Coast
Gilco Trucking
Liberty Tire
Anita Bene
Carolina National Transport
Fracht
Hale Intermodal
Western Pest
ATL Trucking
Port Norfolk
Cal Cartage
ACL
Chris Stewart
VIT
CDS Trucking
Nansmound Insurance
Audax Trans
M&S Shipping