In the United States, food is evolving because of trends of people eating healthy, eating local and knowing more about the products they are purchasing for themselves and their families.
Organic produce is easy to spot in the United States and the standards that we have set are understandable. But does organic in the eyes of the USDA really qualify for organic when the product is imported?
The USDA's Agricultural Marketing Service (AMS) has jurisdiction in this area through something called their National Organic Program, or NOP. There are a number of bilateral programs and agreements that allow a foreign country's organic product to receive the same consideration when sold in the United States.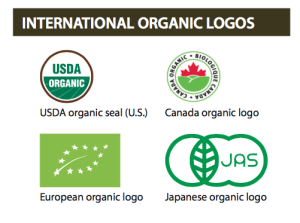 Equivalency Arrangements
An equivalency agreement is an agreement between two countries allowing products that are produced and certified according to one country's organic standards to be sold and represented as organic in the other country. The NOP has an equivalency agreement with the Canada Organic Regime, the European Union, and Japan
Recognition Agreements
A recognition agreement allows a foreign government to accredit certifying agents in their country in adherence with the USDA organic regulations. The certifying agents can then certify organic products only in that country to the USDA organic standards. The NOP has recognition agreements with the following nations:
India
Israel
Japan (through September 26, 2014)
New Zealand
USDA Authorization of Certifying Bodies
While there are established agreements in place as laid out above, this does not preclude other countries from selling and marketing products as "organic". The USDA has established criteria by which government or private sector organizations or authorizing bodies can apply to certify farms and businesses as meeting the required standards. More information can be found here.